At On Deck Kitchens we fabricate everything from scratch. Custom built to suit your selected design, your selected appliances and your unique needs. We also go the extra mile to ensure your cabinetry and benchtops are protected from heat and fire from the appliances. Below we give you an overview of your material choices and what to expect from an "On Deck Kitchens" alfresco kitchen.
odk system – doors, drawers and panels
All of our external panels are a double skinned stainless-steel sandwich panel with a lightweight core of waterproof board. We call this the "ODK SYSTEM". It is a 100% waterproof panel which is suitable for outdoor applications, while still having the luxury of soft close hinges and a huge range of colour choices.
The front skin and all edges of these panels can be powdercoated with Dulux colour to create the look you want to achieve in your alfresco area. Also, for peace of mind all doors and panels are fabricated in our own workshop so we have full control over production.
We also custom fabricate timber-lined doors with ship lap cladding. You can see a couple of examples of these in our Portfolio. They are still backed by our powdercoated stainless steel but with an insert of the timber cladding.
benchtop materials
There are a number of options for benchtop materials when it comes to outdoor kitchens. I've created a table below which outlines some of the advantages and disadvantages of each product. We've used them all, so feel free to contact us if you have questions regarding any of the materials.
MATERIAL
ADVANTAGES
DISADVANTAGES
Granite
Timeless, Elegant, Hardwearing.
Many colours and finishes.
Natural product, so distinct patterns and markings may not be for everyone
Dekton
Hard wearing, fully warrantied. Many colours and finishes.
Tends to be more expensive than other options
GFRC Concrete
Beautiful unique product, industrial type look
Has potential for chipping if not looked after correctly
Solid Surface (Corian)
Easily Repairable. Many colour options available
May not have high-end "feel" of other products
Stainless Steel
Easy to clean, hygienic. Sinks can be fully welded for a seamless benchtop
Scratches easily, can get very hot if kitchen is exposed to sun
appliances
After 8 years full time building outdoor kitchens, we have installed a LOT of different brands, makes and models. We can quote, supply and install any BBQ or appliance which is required. Alternatively, we are just as content for you to supply your own and we will happily fit it in position for you.
If you need some advice on brands, makes or models or you simply want to cut through the jargon – give us a call and we will be happy to help you out.
Some appliances to consider for your outdoor kitchen –
BBQ
Side Burner
Built-in Spit/Rotisserie
Kamado (Ceramic Charcoal Cooker)
Dishwasher
cabinet materials
For our water-proof cabinet bodies and carcasses we use a material which is essentially a PVC weatherproof board, a dense foam with a thin skin of PVC on either side. Easy to clean, and totally waterproof. We always use edge tape on all exposed edges of this board. The exposed edge is hard to clean if it gets dirty, and not using edge tape is an unnecessary shortcut.
All adjustable shelves are fitted with a stainless steel channel on the front edge. This gives strength and structure to the shelf.
BBQ pit
Another feature unique to On Deck Kitchens – our BBQ Pit. This is the structure that houses and supports your BBQ. We manufacture this pit using stainless steel framework and line it with fireproof sheeting which is approved by Energy Safe Victoria. Without this measure, your BBQ and outdoor kitchen may not comply with regulations which could lead to difficulties with insurance claims or non-compliance with inspections.
This framework also allows us to run the benchtop material behind the BBQ, making a much neater finish than some alternatives which only have benchtop either side of the BBQ.
other components
There are also a number of other features to consider when working through your outdoor kitchen layout.
SINKS – We have a huge range of sinks to choose from – from small hand basins through to laundry size troughs.
TAPWARE – We also have a large range of tapware
WASTE DISPOSAL – Otherwise known as a bin. We have many options of built-in, pull-out or countertop waste disposal.
PANTRY PULL-OUT – Great for storage of oils and sauces so you aren't constantly running back into the internal kitchen to get that roll of paper towel which you forgot to grab
view our recent projects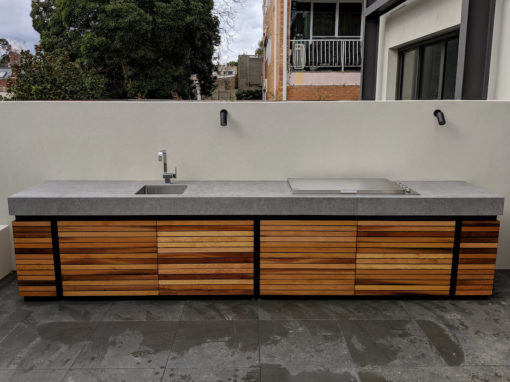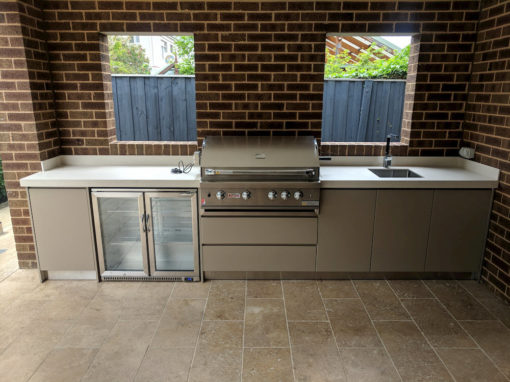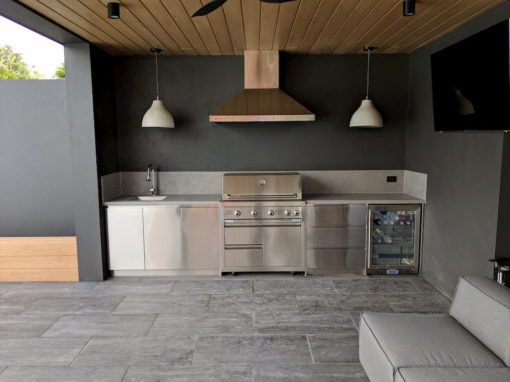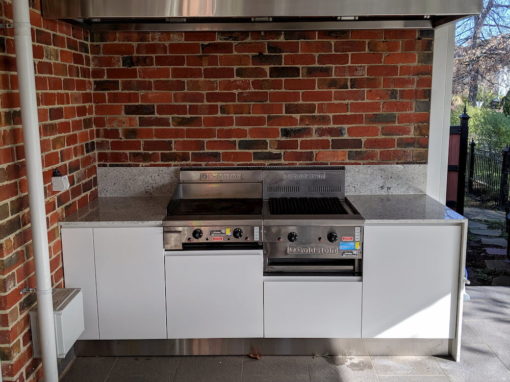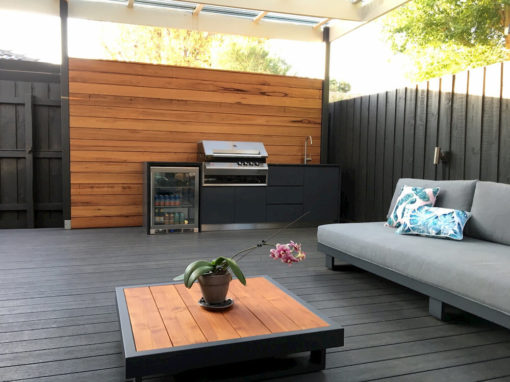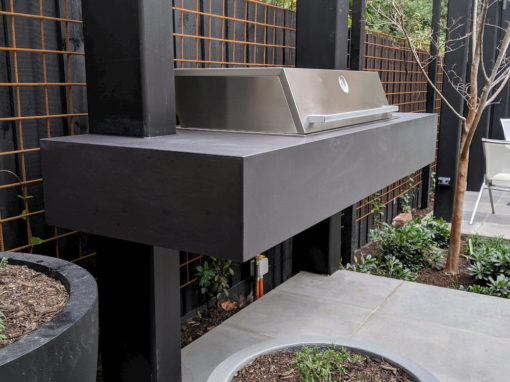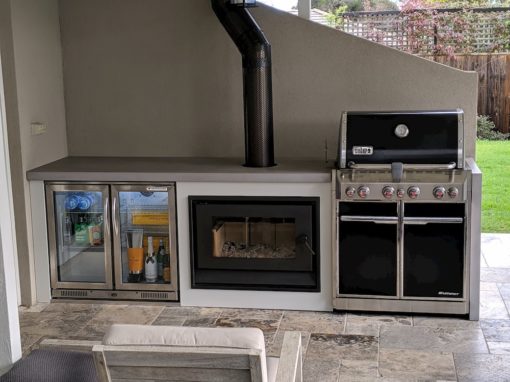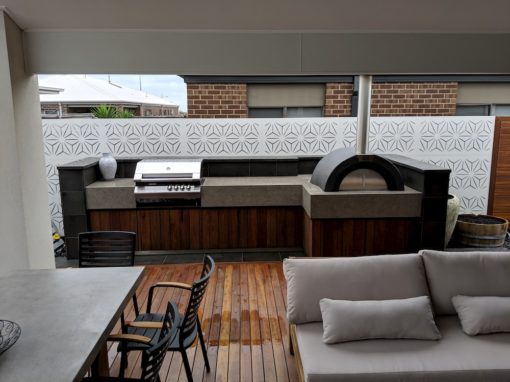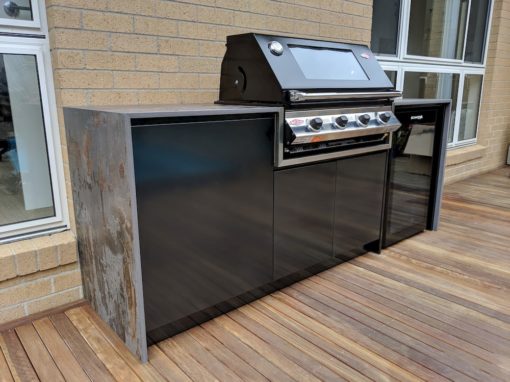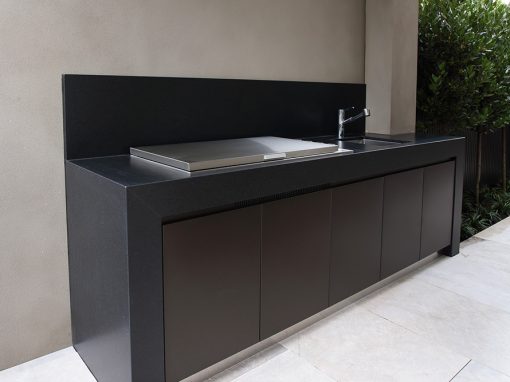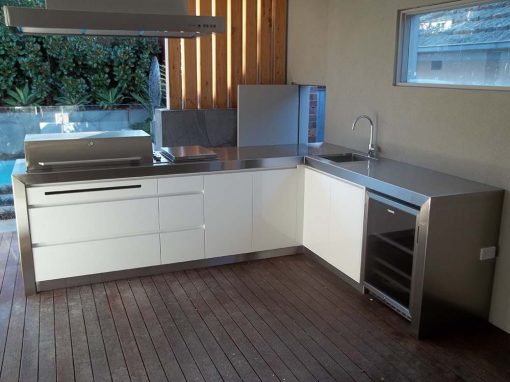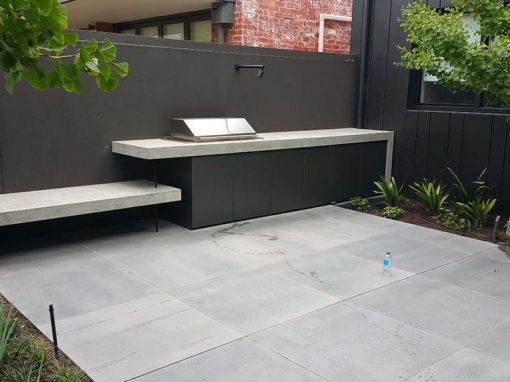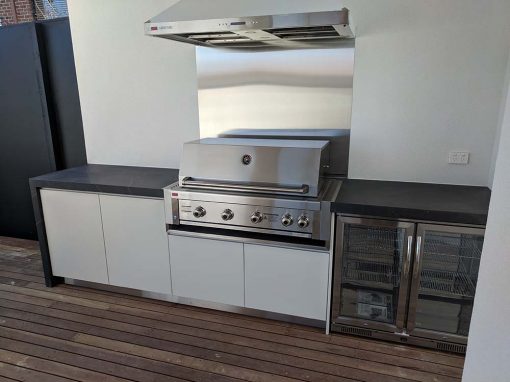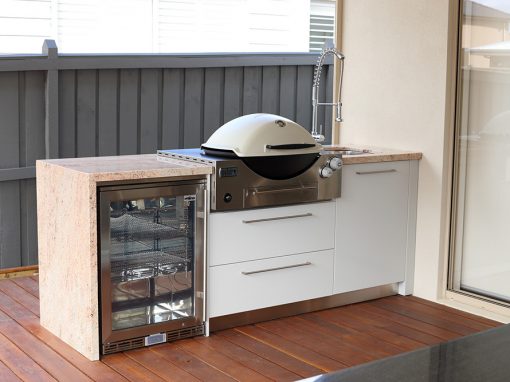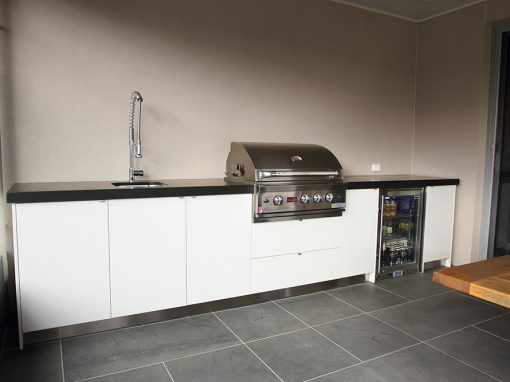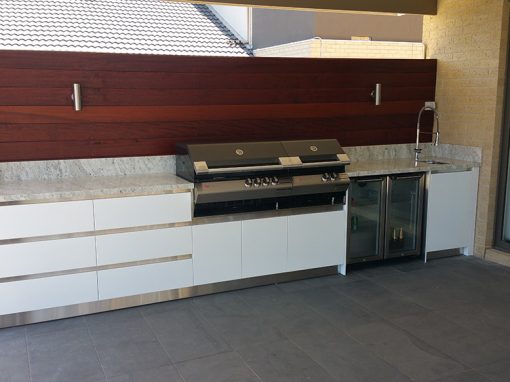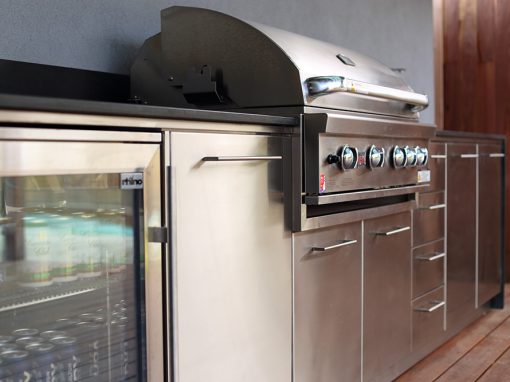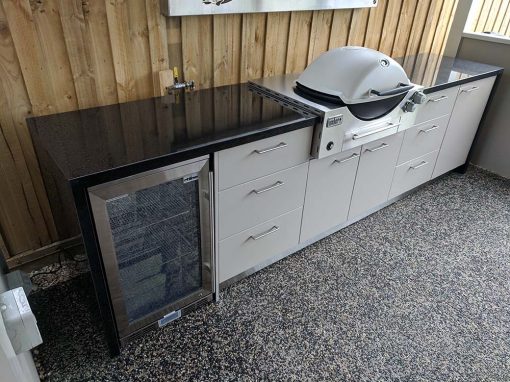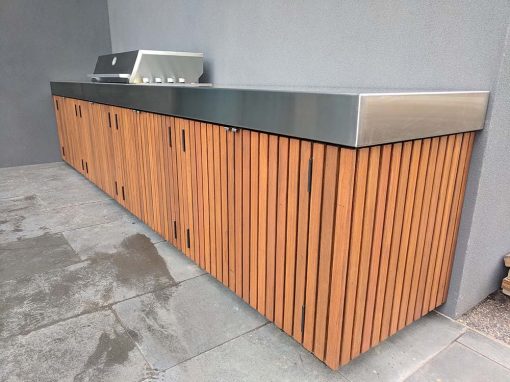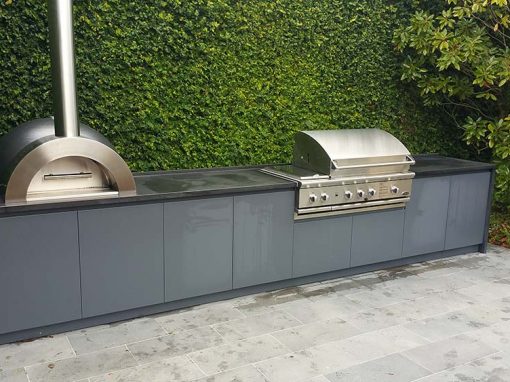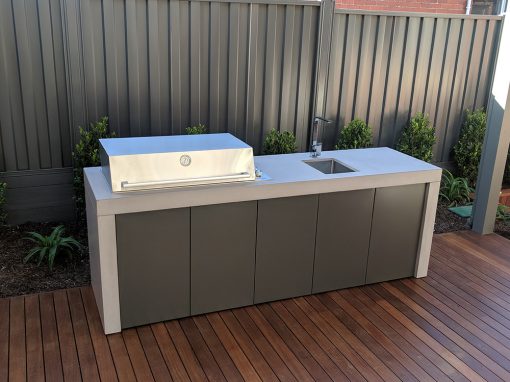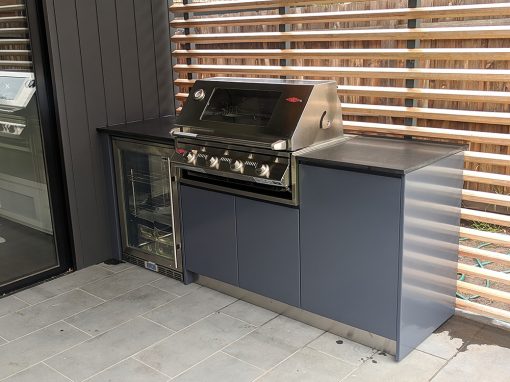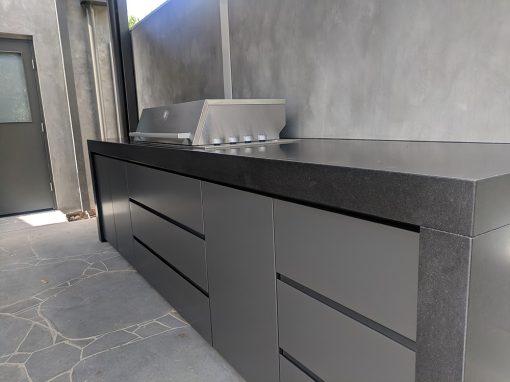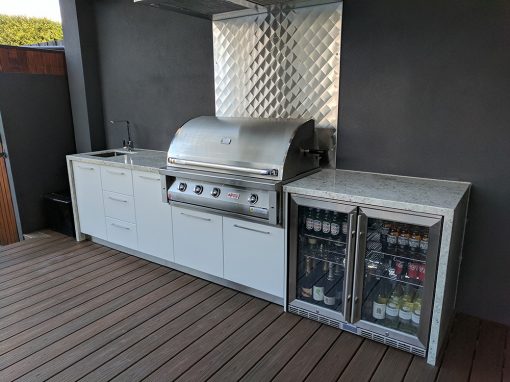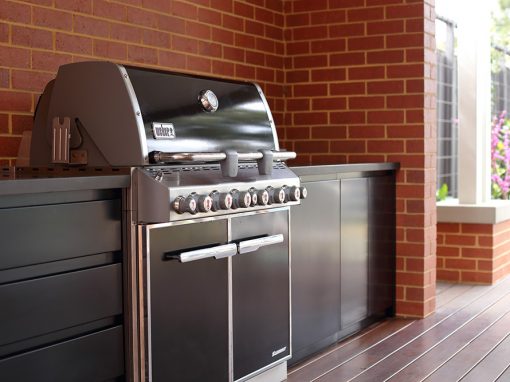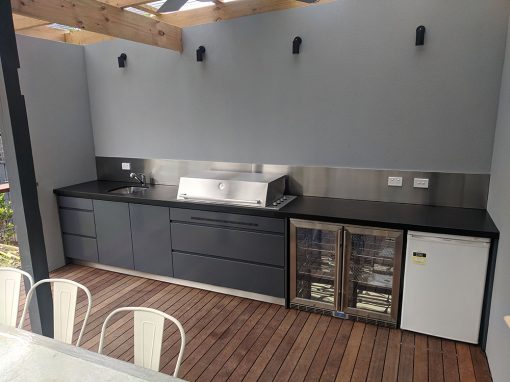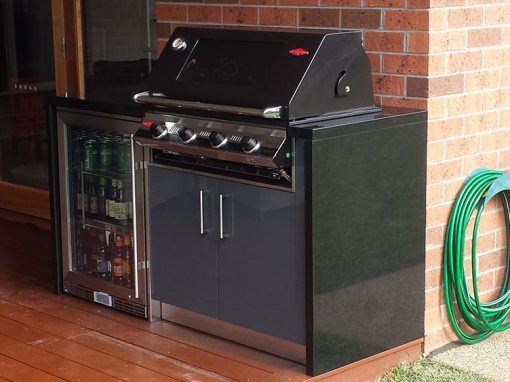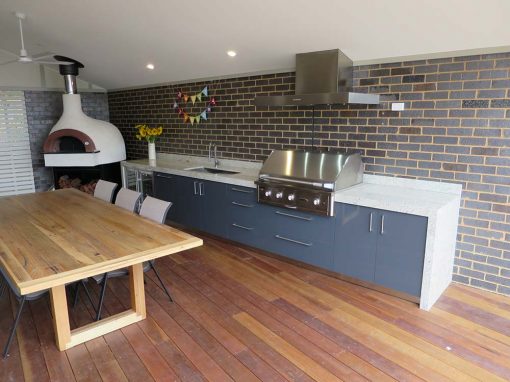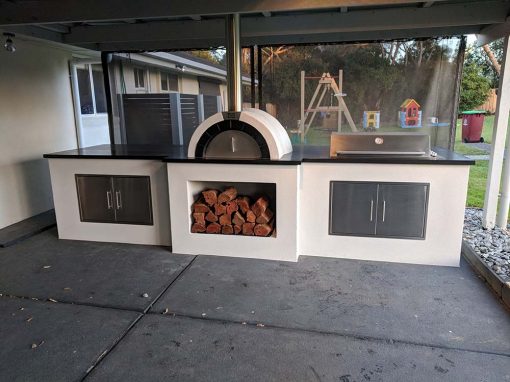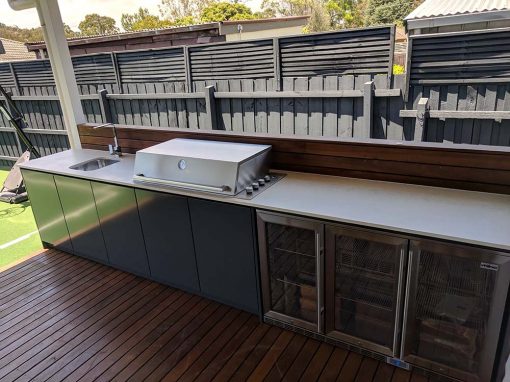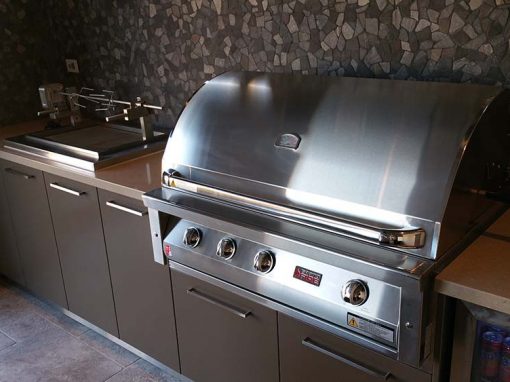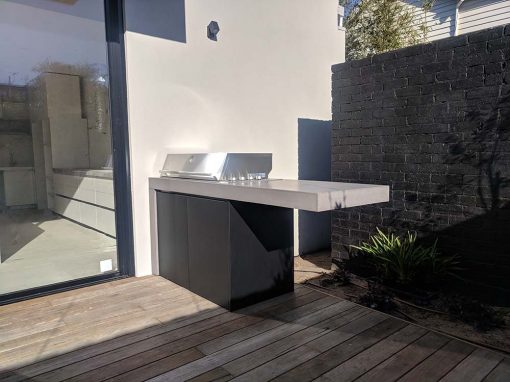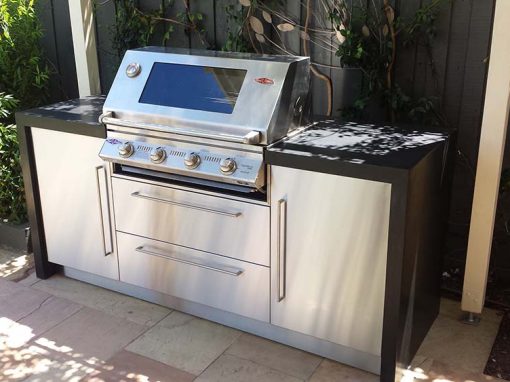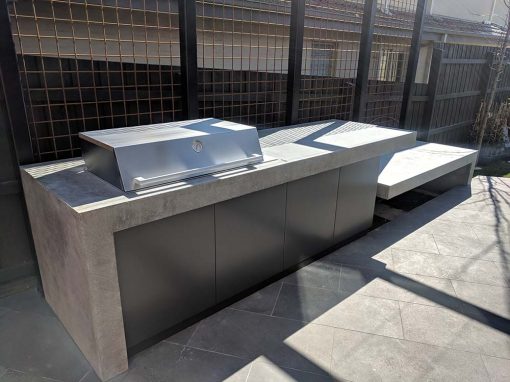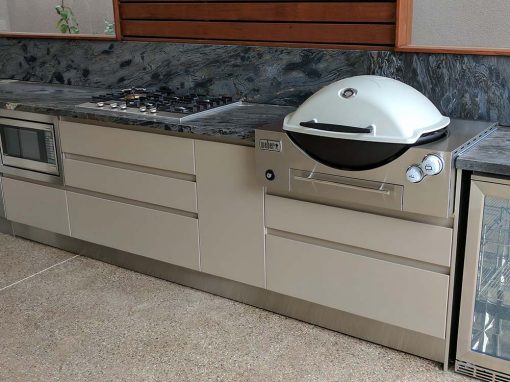 transform your outdoor space today